Black Mesa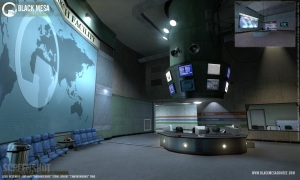 Since December of 2008, I have been a Choreographer for the Black Mesa team. Their website is available here. Black Mesa is working to completely recreate the game Half-Life using its sequel's engine, Source. My job involves creating believeable NPC performances in choreographed 'cutscenes' using the Source engine's Action-Level control system, Face Poser. Additionally, a video of my contributions is available here.
LavaSurf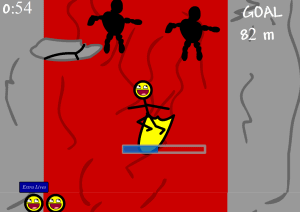 LavaSurf is a Flash game I created with two other team members over the course of three weeks. We came up with an original game concept and then built a prototype. As well as the concept and core ideas for the gameplay, I helped to implement the system of physics as well as numerous minute details. After a lot of tweaking, we felt we had achieved something that was fun to play.
Your goal is to make it down the mountain, while surfing through lava. The object you stand on will slowly melt, and you will need to jump to other objects (some of which move faster than others) If your object melts or you miss a jump, you will lose a life (shown in the lower left corner). The distance to the bottom is shown in the top-right corner
Use the arrow keys to move your character, and use SPACE to jump off your current object.
Click here to play!
Shrink
One of my larger projects was a game called Shrink, a 12-man class project in which we made a 2D platformer in XNA over 10 weeks. In the game, your character's primary ability was being able to shrink and grow himself, as well as anything he carries. I helped to define the structure we decided on for the overall code. I was also a programmer on the team, responsible for ensuring that the rest of the game's code fit well into the camera movement. I also made possible the ability to scale down the world to a tiny size. A video is viewable here.
Pilferocalypse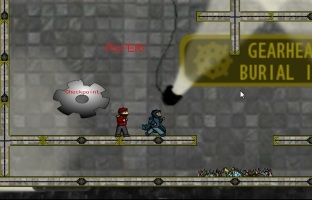 Pilferocalypse is a game I created in a team of three people during my senior year at RIT. It is a 2D platformer made using DirectX 10 and C++, with support for two players and Xbox controllers. My main contributions to the project are the camera control, engine structure, and collision detection/response. A video of it can be viewed here.
Dora Links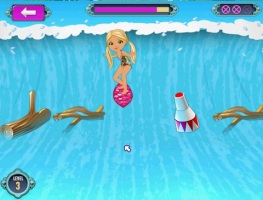 While completing an internship for Imaginengine in Framingham MA, I programed various minigames and fixed bugs in the childrens' game Dora Links, using Lua and C++ in their proprietary engine. I used my personal judgment to adjust difficulty and various parameters for each minigame to be suitable for younger children.
Dungeon Chronicles
Dungeon Chronicles was a 3D RPG I made with a group of 6 other people in my last quarter of college. It's a third-person action-oriented RPG that allows you to pick between several classes to adventure through the dungeon. The game was made in a from-scratch engine using C++ and DirectX 10. You can download the source code here...
Download code only (626 KB)
Download full project with assets (20,591 KB)
Animation projects
I have taken some courses to further familiarize myself with the tools animators use for games, such as Maya and Flash, or frame-by-frame animations in Photoshop. Some examples of my animations can be found here in the site's Videos section.
YouTube
I have been a YouTube content creator for some time, using the Source game engine created by Valve Software (Half-Life 2, Team Fortress 2) to create videos of many sorts. My original YouTube channel can be found here.